Different Kinds of Pistachio Kernel Products
The Pistachio tree is originated to Asia and Asia Minor. It grows in hot and dry weather in areas such as Asia, Europe, Africa and American west. It has great diversity of products with different applications. They are wonderful addition to culinary creations. It is noteworthy, there are a lot of tasty and edible recipes that tasted by great chefs.
Pistachio kernel products have great varieties; some popular kinds include: Slivered Pistachio, Diced Pistachios and Pistachio Powder.
Pistachio Powder
Pistachio green powder is one of the best-selling kernel products among nuts. It has prepared from all type of kernels. The quality of the powder directly relates to the primary kernel. In other words, if the Pistachio kernel is yellow or old, then the quality of the kernel decreases.
Pistachio powder has various utilization. Its most common usage is in the field of sweets and ice cream. The powder and Pistachio slices are two main products. They apply in design or as a raw material for sweets.
Characteristics and Specifications
Color: Varied, based on the type and grade of pistachio, greenish to yellowish
Smell: Natural pistachio kernel›s aroma without foreign odor
Type: Powdered, obtained from normal pistachio kernel
Flavor: Original taste
Humidity: %6-% 5
Shelf life: 24 months, Keep in cool and dry place, away from direct sunlight
Harvesting Time: September & October
Bulk Packing: 10Kg Vacuum in Carton
OEM: Possible
Slivered Pistachio
Slivered Pistachio is sweet and delicious and These Pistachios have been split and sliced into tiny slivers. So they are great choice for garnish; therefore countless number of dishes, savory and sweet can be designed by that.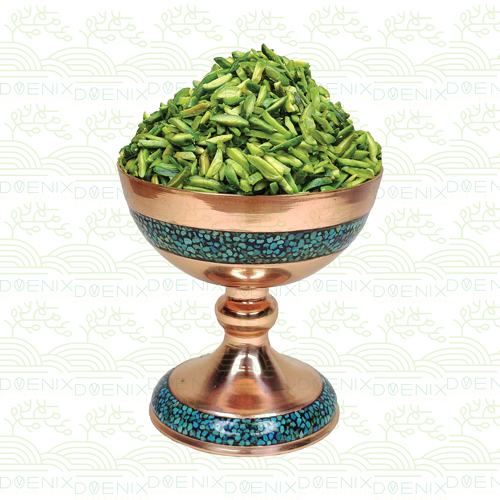 Diced Pistachios
Diced kernels, like normal ones, are trading domestically; and of course exporting to foreign countries. It's clear consumption of diced Pistachio is more common than standard one. Diced pistachio kernels are obtained from green peeled kernels and regular kernels.
Characteristics and Specifications
Kernel color: Purple and Brown skin, green inside.
Smell: Natural pistachio's aroma without foreign odor
Type: Whole kernel, Obtained from Pistachio In-Shell
Flavor: Original taste
Humidity: less than %5
Shelf life: 24 Months, Keep in cool and dry place, away from direct sunlight
Harvesting Time: mid-September
Bulk Packing: 10Kg Vacuum in Carton
OEM: Possible