Akbari Pistachio (Super Long Pistachio)
Akbari Pistachio (Super Long) is an almond-shape, high jumbo rate and the highest Iranian Pistachio. It has highest amount of kernel and also luxurious appearance; although it's the most favorable one.
Pistachio is one of the most important and nutritious nuts in Iran and all over the world; indeed it has specific advocates. There are different types of Pistachios; among them Super Long is the best one.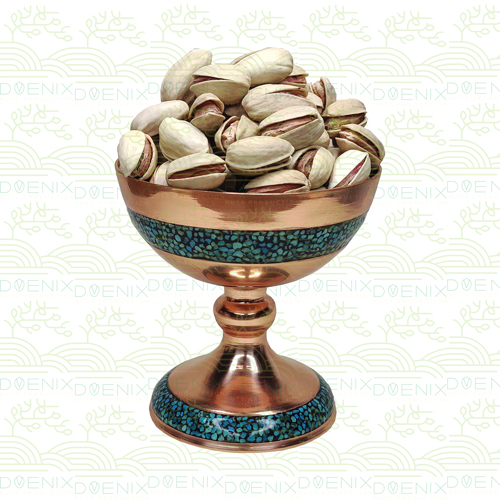 Why we name it Akbari Pistachio?
Super Long Pistachio transplanted by Akbar Tajabadi. He grafted different cultivars of Pistachio trees, and finally got the best one. Akbari Pistachio is the most expensive type. There is a split on the both side of Pistachio that makes it easy to peel.
Differences between Akbari and Ahmad Aghaei Pistachios
Akbari Pistachio trees, in comparison to other types, are larger and stronger and have more leaves; But they are more sensitive to pests such as psyllids; if left unchecked, there is a possibility of leaf fall. Pistachio trees need winter cold in different degrees to wake up after the tree is gone.
For Ahmad Aghaei trees, less cold is needed which is provided every year. But Akbari trees need chilly weather for about 1200 hours at a temperature below 6 degrees in Winter which rarely happens. It happens at least once every few years.
Specifications of Super Long Pistachio
Shell Color: Light Brownish
Kernel Color: Varied, according to cultivation point it can be light reddish
Smell: Natural Pistachio's aroma without foreign odor
Shape: Super/Extra Long
Available Sizes: (Pistachios per 1 Oz): 26-24 ,24-22 ,22-20 ,20-18
Common Market Size: 24-22
Humidity: Less than %5
Shelf Life: 24 Months, Keep in cool and dry place, away from direct sunlight
Harvesting Time: Mid-September
Bulk Packing: 10Kg Cartons, 25Kg/50Kg Jumbo Bags
Chemical/Artificial Additives: GMO Free, Gluten-Free
OEM: Possible